SSC CGL ( Staff selection Commision Combined Graduate Level Exam ) is the most important exam for all the government job aspirants, Every graduate candidate appears for the SSC CGL Exam in India. During the preparation one question always come in our mind that How to start the preparation ? First of all , rather than finding material online we should go for a good book to prepare as  the best preparation you can do if from a book.Here are the reviews of the best SSC CGL books for preparation.
What is the best book for SSC CGL 2016 preparation ?
Here we have listed the best SSC CGL books of 2016 , you can buy any of them and start preparing.
Best SSC CGL Books for Preparation
1 ) Ultimate Guide to SSC Combined Graduate Level – CGL (Tier I & Tier II) Exam 3rd Edition 

by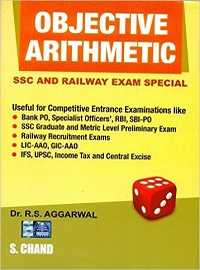 SSC CGL R.S Aggarwal book is the best book considered due to the high reputation of author and the content of the book. This book covers all the section of SSC exam and the best part is you can opt this book for other government jobs also. This is the all rounder book for the government jobs exam and its covers the arithmetic part of the exam that is aptitude section but most of the students find difficult the aptitude section so they can refer this book for the improvement of SSC CGL aptitude section.(best SSC CGL books)
---